Francesca Dego
VIOLIN
---
Representation: General Management
Biography
Italian-American violinist Francesca Dego is celebrated for her versatility, compelling interpretations, and flawless technique.
Her 23/24 season includes concerto debuts with Utah Symphony, Swedish Radio, Bergen Philharmonic, London Philharmonic, West Australian Symphony, Queensland Symphony Orchestras and re-invitations to the Hallé, CBSO, Royal Philharmonic, Orchestra Haydn and Brucknerhaus Linz. She is Artist in Focus at the Ulster Orchestra which includes concerto engagements across the season, including the Brahms Double Concerto with Daniel Müller-Schott and chamber and education projects. In recital, she will perform in Rome, Perugia and Sacile with Alessandro Taverna.
Highlights of recent seasons include concerts across Japan with NHK Symphony conducted by Fabio Luisi, Washington National Symphony, Indianapolis, Orquesta de Castilla y León, and Orchestre de Champs Elysées with Mo. Herreweghe including her debut at La Seine Musicale. In Spring 2023 she jumped in at short notice to make her Canadian debut with National Arts Centre Ottawa, and other recent projects include North Carolina, Bernstein's Serenade at La Fenice, Orchestre de Chambre de Lausanne, BBC Symphony, Ulster Orchestra, Hallé Orchestra and La Verdi, Philharmonia, Royal Philharmonic and Royal Scottish National Orchestras, Gürzenich Orchestra Cologne, National Youth Orchestra of Great Britain, Tokyo Metropolitan and Tokyo Symphony Orchestras, Orchestre Philharmonique de Nice, Teatro Carlo Felice Genova at St Petersburg's renowned Stars of the White Nights festival, Teatro Regio di Torino, Accademia Nazionale di Santa Cecilia and all the major Italian orchestras, Orquestra de Sevilla and de la Comunitat Valenciana at Palau de les Arts, Auckland Philharmonia, Oviedo Philharmonic, Philharmonique de Monte-Carlo, Het Gelders Orkest, and the Orkest van het Oosten.  Recitals include at the Louvre in Paris, Wigmore Hall, Lincoln Center New York and Washington DC, Ascona Settimane Musicali as well as her recent debut at the Kissinger Sommer Festival.
Last season she made her recording debut with the London Symphony Orchestra as the first artist to be featured on the new Apple Classical platform in 'A New Dawn' featuring Bologne's Chevalier de St Georges Concerto no. 2 alongside conductor Jonathon Heyward. She regularly collaborates with esteemed conductors such as Sir Roger Norrington, Fabio Luisi, Philippe Herreweghe, Daniele Rustioni, Lionel Bringuier, Dalia Stasevska, Markus Stenz, Jonathan Heyward, Donato Renzetti, Gemma New, Jader Bignamini, Alpesh Chauhan, Asher Fisch, Markus Poschner, Krzysztof Urbański and Xian Zhang.
Francesca is signed exclusively to CHANDOS Records and her releases of the complete Mozart Violin Concerti conducted by Sir Roger Norrington with the Royal Scottish National Orchestra were received to unanimous critical acclaim including BBC Music Magazine 5* 'Record of the month'. Her most recent release on the label features the Mozart Piano Quartets with Federico Colli, Timothy Ridout and Laura van der Heijden.  She has also recorded concertos by Paganini and Ermanno Wolf-Ferrari alongside the City of Birmingham Symphony Orchestra and Daniele Rustioni, the recital disc Il Cannone, as well as a complete survey of the violin sonatas by Beethoven and of Paganini's Caprices, for Deutsche Grammophon.
A keen chamber musician, Francesca enjoys performing with artists such as Francesco Piemontesi, Daniel Müller-Schott, Timothy Ridout, Jan Lisiecki, Salvatore Accardo, Alessandro Carbonare, Mahan Esfahani, Bruno Giuranna, Shlomo Mintz, Narek Hakhnazaryan, Federico Colli, Mischa Maisky, Antonio Meneses, Martin Owen, Alessandro Taverna, Enrico Dindo, Alessio Bax, Roman Simovic and Francesca Leonardi.
Francesca also has a passion for contemporary music and counts herself a dedicatee of the works of, amongst others, Michael Nyman, Carlo Boccadoro, Cristian Carrara, Nicola Campogrande and Marco Taralli.  She is a frequent contributor to specialist music magazines including penning a monthly column for Suonare News among others and has written articles and opinion pieces for The Strad, BBC and Classical Music Magazines, Musical Opinion and Strings Magazine. Francesca has also recently published her first book, Tra le Note. Classica: 24 chiavi di lettura, with Mondadori in which she explores how classical music can be listened to and better understood today.
Francesca is based in London and plays on a rare Francesco Ruggeri violin (Cremona 1697).
Artist website: www.francescadego.com

Promoters please note: if you wish to include this biography in a concert programme etc, please contact James Brown Management to make sure you receive the most up to date version.  Email: Andrea McDermott
Reviews
"It's a challenge to make [these concertos] sound fresh. Yet the youthful Francesca Dego and the seasoned, ever-questing Roger Norrington, on his last recording, achieve that in spades … Dego's playing creates a spirit of delighted, sometimes whimsical improvisation … Norrington and the 25-strong RSNO keep the accompaniments buoyant, and gleefully seize on every opportunity for operatic dialogues with the soloist. This is chamber music writ large … a delectable album… If you think you've heard these concertos once too often, this could be just the tonic." – Richard Wigmore, October 2022
Gramophone Magazine
"This recording is characterized by excellently balanced interpretations and a light-hearted and fluid gesture … these are distinctly eloquent, finely woven interpretations"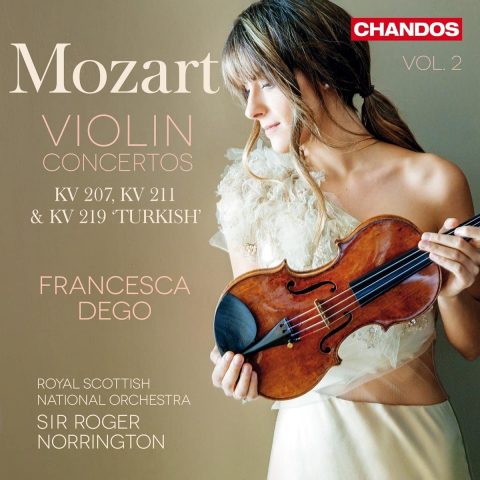 Mozart Violin Concertos 2
The follow up to their first collaboration, Francesca Dego and Sir Roger Norrington return to the studio for the third & fourth violin concertos,  once again joined by the Royal Scottish National Orchestra. Notably, the first time either soloist or conductor has recorded the works.  Of the first album, The Sunday Times noted 'Pairing the veteran Mozartian Norrington – a pioneer of historical performance practice – with the young Italian-American soloist Dego proves inspiring in what promises to be one of the freshest of recent cycles of the Mozart concertos.'
CHANDOS (2022)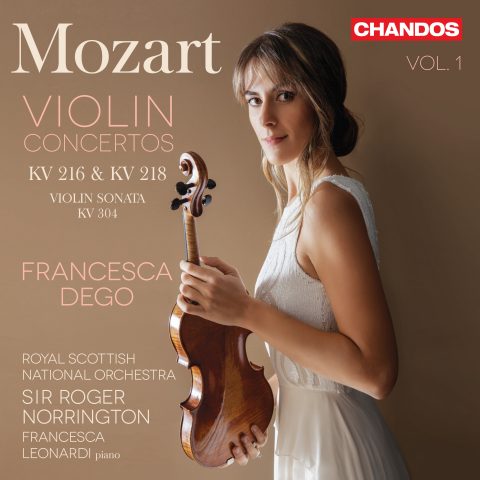 Mozart
Francesca Dego joins forces with the legendary conductor and period performance pioneer Sir Roger Norrington and the Royal Scottish National Orchestra for this recording of Mozart's Third and Fourth Violin Concertos – the first time either soloist or conductor has recorded the works.
CHANDOS (2021)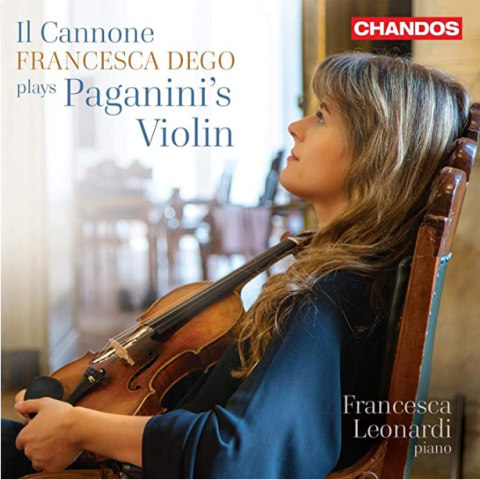 Il Cannone
Paganini's violin, the legendary 'il Cannone', made by Giuseppe Guarneri del Gesù in 1743, is one of the most important musical instruments in the history of Western music. It has been heard on record just a handful of times. Francesca Dego was given the honour of recording with it after the success of her first performance on the instrument, in October 2019, when she was invited to play Paganini's First Violin Concerto at the Paganini Celebratory Concert at Teatro Carlo Felice, in Genoa.
CHANDOS (2021)