Francesca Dego
VIOLIN
---
Representation: General Management
Biography
Overview
Praised for her "impeccable technique" (Sir Roger Norrington), Francesca Dego is quickly becoming one of the most sought after young violinists on the international scene. Recent and future highlights include performances with the Gürzenich, Hallé, Philharmonia, Royal Philharmonic, Royal Scottish National, Tokyo Symphony and Tokyo Metropolitan Symphony Orchestras and the Orchestra della Toscana. Signed since 2012 by Deutsche Grammophon, Francesca's numerous releases have been received with widespread acclaim. Her latest recital disc 'Suite Italienne' explores Italian repertoire from the twentieth-century and features works by Respighi, Castelnuovo-Tedesco and Stravinsky.
Full Biography
Celebrated for her sonorous tone, compelling interpretations and flawless technique, Francesca Dego is one of the most sought after young violinists on the international scene. Signed in 2012 by Deutsche Grammophon, her most recent recording is Suite Italienne, a recital disc paying homage to the aesthetic and influence of twentieth-century Italian musical style and featuring works by Ottorino Respighi, Mario Castelnuovo-Tedesco and Igor Stravinsky. Past releases include her highly acclaimed first concerto disc featuring concertos by Niccolò Paganini and Ermanno Wolf-Ferrari alongside the City of Birmingham Symphony Orchestra and Daniele Rustioni in 2017, plus a complete survey of the violin sonatas by Ludwig van Beethoven and of Paganini's Caprices. 
Born in Lecco, Italy, to Italian and American parents, Francesca regularly appears with major orchestras worldwide, and recent and forthcoming highlights include performances with the Philharmonia, Hallé, Ulster, Royal Philharmonic and Royal Scottish National Orchestras, Gürzenich Orchestra Cologne, Indianapolis Symphony Orchestra, Tokyo Metropolitan and Tokyo Symphony Orchestras, Orchestre Philharmonique de Nice, Orchestre de Chambre de Lausanne, Teatro Carlo Felice Genova at St Petersburg's renowned Stars of the White Nights festival, Teatro Regio di Torino, Orquestra de Sevilla and de la Comunitat Valenciana at Palau de les Arts, Auckland Philharmonia, Las Vegas Philharmonic, Santa Barbara Symphony, Het Gelders Orkest, and the Orkest van het Oosten.  
In Italy, this season's highlights include opening the prestigious MITO Settembre Musica Festival with Milan's "La Verdi" Orchestra in a performance of Tchaikovsky's Souvenir d'un lieu cher, returns to the Filarmonica Arturo Toscanini in Parma, and to the main season of the "La Verdi" orchestra. She will also appear in recital at the Festival Valle d'Itria, and perform at the Gravedona Chamber Music Festival, which was co-founded by Francesca in 2018.  
Her international career to date has allowed her to work alongside many esteemed conductors, Sir Roger Norrington, Karen Durgaryan, Christopher Franklin, Paul Goodwin, Christopher Hogwood, Yoel Levi, Grant Llewellyn, Wayne Marshall, Diego Matheuz, Shlomo Mintz, Gemma New, Dalia Stasevska, Alpesh Chauhan and Xian Zhang, to name a few.  
An outstanding collaborative artist, Francesca thrives in chamber settings, and she has performed with Salvatore Accardo, Mahan Esfahani, Bruno Giuranna, Narek Hakhnazaryan, Piers Lane, Jan Lisiecki, Mischa Maisky, Antonio Meneses, Domenico Nordio, Martin Owen, Roman Simovic and Kathryn Stott, as well as her regular recital partner, pianist Francesca Leonardi. Highlights of the 2020/21 season for the duo include performances at the Louvre in Paris, Lincoln Center New York, Washington DC, Siena, as well as the final concerts of their complete cycle of Beethoven's violin sonatas at Unione Musicale, Torino.  
Francesca is the winner of numerous national and international competitions, and in 2008 attracted widespread attention for being the first Italian female prize-winner of the renowned "Paganini Competition" in Genoa since 1961. In addition she was awarded the "Enrico Costa" prize for having been the youngest finalist. She was selected to perform as soloist at the 2014 and 2015 Remembrance Day concerts in Rome, broadcast worldwide by RAI. In June 2014 she performed at Rio de Janeiro's Teatro Municipal at the opening of the Football World Cup in Brazil. She is a frequent contributor to specialist music magazines, penning a monthly column for Suonare News among others, and has written articles and opinion pieces for the BBC and Classical Music Magazines, The Strad, Musical Opinion and Strings Magazine. Francesca has also recently published her first book, Tra le Note. Classica: 24 chiavi di lettura, with Mondadori in which she explores how classical music can be listened to and better understood today.  
Francesca is based in London, and plays on a precious Francesco Ruggeri violin (Cremona 1697).  
Artist website: www.francescadego.com

Promoters please note: if you wish to include this biography in a concert programme etc, please contact James Brown Management to make sure you receive the most up to date version.  Email: Sophie Tiezel
News
Francesca Dego signs exclusive contract with Chandos Records
November 6th, 2020
Italian-American violinist Francesca Dego has signed an exclusive recording deal with Chandos Records. For her first release, due in late February 2021, she celebrates the legacy of Niccolò Paganini with a recording of works inspired by the great violinist and performed on the his violin, the fabled "Il Cannone". Future releases include the Mozart violin…Read more ›
Francesca Dego opens MITO Festival 2020
July 17th, 2020
It has been announced that Italian-American violinist Francesca Dego will open the prestigious MITO Settembre Musica festival in early September 2020. Together with the la Verdi Orchestra and conductor Daniele Rustioni she will take the stage for the inaugural concerts both in Milan and Turin, performing Tchaikovsky's Souvenir d'un lieu cher in an arrangement for solo violin…Read more ›
Paganini/Wolf Ferrari – VIOLIN CONCERTOS
Wolf-Ferrari Violin Concerto and Paganini's Violin Concerto No. 1.  Daniele Rustioni conducts the City of Birmingham Symphony Orchestra
DG (2017)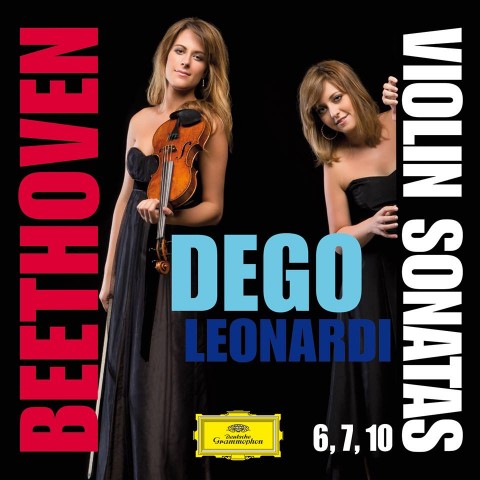 Beethoven – VIOLIN SONATAS
Francesca Dego and Francesca Leonardi's final volume of the Complete Violin Sonatas by Beethoven, featuring Nos.6, 7 and 10, was released in October 2015. Dego and her duo partner Leonardi have been playing together for over 11 years, and Beethoven's sonatas have always been an important part of their repertoire. They have developed an original interpretation, combining informed research with enchanting youthful fervour. The duo will be touring the sonatas extensively in Italy, Croatia, China, the USA, South America and Lebanon over the coming months.
DG (2015)