JBM Artists head for Australia and New Zealand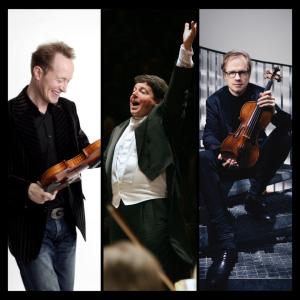 Anthony Marwood is in Australia and New Zealand for a month, working with Sydney Conservatorium, the Australian National Academy of Music, Melbourne Recital Centre (a recital with pianist Stefan Cassomenos) and on the jury of the Michael Hill International Violin Competition in Queenstown and Auckland, New Zealand.
Andrew Litton heads to Adelaide this week for a Rachmaninoff Piano Concertos Cycle with Stephen Hough and the Adelaide Symphony Orchestra, after which he joins Anthony Marwood in Auckland to conduct the final of the Michael Hill competition.
Meanwhile, at Hobart's Federation Concert Hall, Henning Kraggerud's composition Romantarctica for solo violin, clarinet and orchestra received its Australian premiere this month with the Tasmanian Symphony Orchestra, one of the co-commissioners of the work, together with the orchestra's Principal Clarinet Andrew Seymour, and the composer as violin soloist and director. He remains in Hobart this week to perform another of his major works, Equinox.