Sensational Schumann at the Wigmore Hall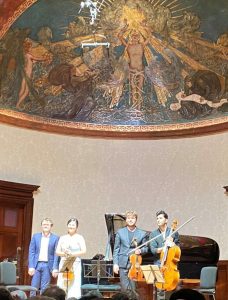 Benjamin Grosvenor and Hyeyoon Park concluded their European Tour with fellow Quartet members Timothy Ridout and Kian Soltani to a packed Wigmore Hall on Saturday evening.
Fresh from two back-to-back performances at the Concertgebouw, the Quartet also performed the same programme in Madrid, Hohenmens, Trento, Turin and Gent before giving a finale performance in London's prestigious chamber venue. The repertoire included Schumann's famous Piano Quartet and was met with rapturous applause from a very enthusiastic audience.
Bravo tutti!