Tito Muñoz launches the Phoenix Symphony 23/24 Season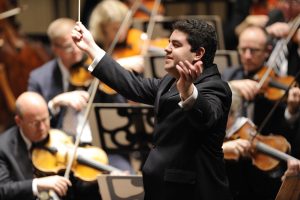 Photo: Roger Mastroianni
Returning for his 10th season as Virginia G. Piper Music Director, Tito Muñoz will open the Phoenix Symphony's 2023-2024 season tonight in Phoenix Symphony Hall.
Tito opened his very first Phoenix season with Orff's Carmina Burana, so it is fitting that he will now launch his 10th anniversary season with the ever popular work, preceded by Adam Schoenberg's Picture Studies. As well as soloists, Jeni Houser, Arnold Livingston Geis, and Michael Adams, Tito will be joined by The Phoenix Symphony Chorus and Phoenix Boys Choir, with repeat concerts over the weekend.
Tito has a full and varied season with the Phoenix Symphony, returning in October for Dvořák's Cello Concerto and Brahms' 2nd Symphony, in December for Handel's Messiah, and for further dates throughout the Spring and Summer of 2024.