Hyeyoon Park debuts at Night Serenades International Music Festival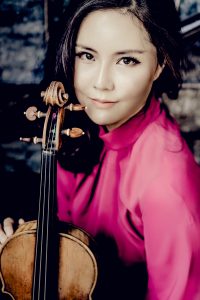 Photo: Andrej Grilc
Celebrated violinist Hyeyoon Park performs at the Night Serenades International Music Festival in Georgia this week.
As featured guest artist on opening night, Hyeyoon performs Franck's Violin Sonata with pianist Tata Licheli which will be broadcast live on national television on Thursday 24th before the Beethoven Violin Concerto the following evening with a small ensemble in the arrangement by Carl Hinde, with other repertoire by Vaughan Williams and Rachmaninoff.
She then returns to the UK for a recital at Summer at Snape next Monday, 28 August, with Benjamin Grosvenor before embarking on a busy September with performances in Bern and Zorneding.
Toi toi toi Hyeyoon!