Benjamin Grosvenor's forthcoming album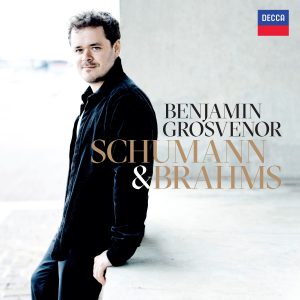 Decca Classics has announced Benjamin Grosvenor's latest album 'Schumann & Brahms' from which Schumann's Romance op.28 no.2 has been released today, ahead of the full album in mid-March.
Grosvenor takes Robert Schumann's haunting Kreisleriana as his starting point in his new album, Schumann & Brahms. This eight-movement work portrays the mercurial personality of the fictional Johannes Kreisler, created by E. T. A. Hoffmann: Kreisler's highs and lows, and his dreamy nature, clearly mirror Schumann's own tragic manic-depressive tendencies. Grosvenor responds to the composer's autobiographical honesty with playing of sublime tenderness, dazzling variety, and imaginative empathy.
He accompanies the work with the melancholic Variations on a Theme by Robert Schumann by Schumann's beloved wife Clara (who, incidentally, stated that she was much disturbed by the visions conjured up in Kreisleriana). Further kaleidoscopic variety is provided by Robert's Blumenstück, and Quasi Variazioni: Andantino de Clara Wieck. The recital also includes Brahms' Three Intermezzi, autumnal works which shed a fascinating light on the complicated relationship which existed between Robert, Clara and Brahms himself. Grosvenor's own arrangement of Robert's Abendlied completes the programme.
You can listen to the newly released track which is available to stream here.