Julian Bliss on tour with John Mackey's Clarinet Concerto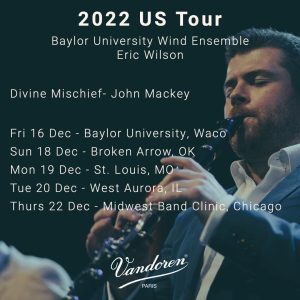 This week, Julian Bliss begins his tour of John Mackey's Clarinet Concerto Divine Mischief with the Baylor University School of Music Wind Ensemble and Director of Bands Eric Wilson. Starting at Baylor University in Waco (16 Dec), with further performances in Broken Arrow, OK (18 Dec), St. Louis, MO (19 Dec) and West Aurora, IL (20 Dec), the tour concludes at the Midwest Band Clinic in Chicago on 22 December.
Divine Mischief is a new Concerto for Clarinet and Wind Ensemble written for Julian Bliss by the eminent composer John Mackey. This tour follows on from the world premiere of the piece which was given by Julian Bliss in October of this year with the Dallas Winds and conductor Jerry Junkin. The new year sees Julian Bliss continue to take the Concerto on tour.