Podcast: Vinay Parameswaran 'On Record'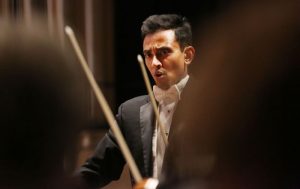 Photo: Roger Mastroianni Credit: Roger Mastroianni
This week Vinay Parameswaran appears on Julia Figueras' podcast 'On Record' with violinist Tai Murray.
Vinay and Tai will be joining the Rochester Philharmonic Orchestra this week for two performances of Wynton Marsalis' Violin Concerto and Jean Sibelius' Symphony No. 5. In this episode, they discuss the extraordinary language of Marsalis and the exquisite sonorities of Sibelius.
Listen to the episode HERE.