Tito Muñoz steps in to conduct the BBC Scottish Symphony Orchestra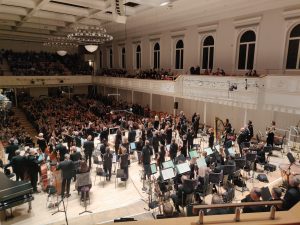 Bravo to Tito Muñoz for stepping in at the eleventh hour to conduct the BBC last week. The programme included Anna Clyne: This Midnight Hour, Chopin: Piano Concerto No. 1, featuring Eric Lu, and Bartok: Concerto for Orchestra.
"Muñoz's pacing was masterfully gauged […] He certainly had the SSO playing their best so far this season." – VoxCarnyx
"Muñoz ended his programme with Bartok's Concerto for Orchestra, a performance that was vital, fiery and, where it mattered, mischievous and dazzling. Let's get him back." – The Scotsman
Listen back on BBC Radio 3.