Glowing reviews for the Tallis Scholars' recent tour in Australia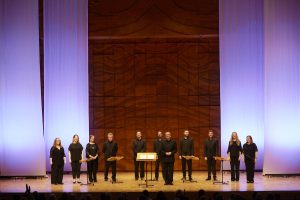 Photo: Laura Manariti
After a hugely successful Australian tour, The Tallis Scholars have been receiving some wonderful reviews of their concerts in Melbourne, Brisbane and Sydney.
"[A]stonishing technical skills and quality of these elite voices […] Phillips directed with complete command of the complexity of the piece".
"[A] splendid and powerful performance by singers at the absolute top of their game singing to a packed and appreciative audience in the Concert Hall".
Peter Tregear for Australian Book Review
"Phillips's unwavering commitment to a specific kind of ensemble sound, characterised by crystal-clear vocal production and an overarching determination that the individual voices should always blend seamlessly".
"[C]ontinuing strong interest in The Tallis Scholars is fully justified, not just because of the sheer technical brilliance and beauty of their performances but also because they have helped to shape the very culture they now exemplify. [T]he veritable Rolling Stones of Renaissance music".