Karl-Heinz Steffens steps in at Stuttgarter Philharmoniker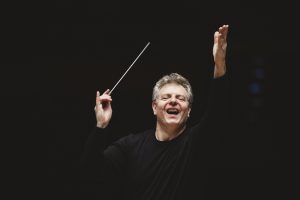 Photo: Susanne Diesner
Bravo to Karl-Heinz Steffens who stepped in for Howard Griffiths last week to conduct the Stuttgarter Philharmoniker. Joined by Burcu Karadağ (ney), Hakan Güngör (kanun) and Aykut Köselerli (percussion), Steffens conducted Fazil Say's Istanbul Symphony; the programme also included Grieg Piano Concerto in A minor with soloist Claire Huangci and opened with Weber Overture to Abu Hassan.
This week with the Essener Philharmoniker, Steffens performs Bruckner's Symphony No. 6 and Beethoven's Piano Concerto No. 5 in Eb Major (Emperor) with the eminent pianist Rudolf Buchbinder. The concert on 14th October will be broadcast live on WDR 3 and will be available for 30 days afterwards.
Tune in live at 20:00 German time on Friday 14th October
More on the programme.