Alpesh Chauhan at the Commonwealth Games and BBC Proms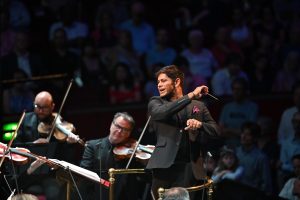 Congratulations to Alpesh Chauhan who last week conducted both the opening ceremony of the Commonwealth Games with the CBSO and made his BBC Proms main evening debut with the BBC Scottish Symphony on consecutive evenings.
Watched by over a billion people worldwide, Birmingham-born Chauhan and the City of Birmingham Symphony Orchestra performed throughout the dramatic opening ceremony in a special score composed for the occasion by Dan Jones. The Prom on Friday evening included the European Premiere of the new percussion concerto by Nicole Lizee, performed by Colin Currie as well as Shostakovich's Fifth Symphony, of which Rebecca Franks wrote in The Times ****: "Lyricism and tension were finely balanced. And the Fifth's paradoxes were felt: the opening so austere yet so imposing, the ending so triumphant yet so tormented."
Alpesh's summer of excitement doesn't stop there. In the coming weeks he makes his debuts with the Adelaide Symphony, Oslo Philharmonic, Melbourne Symphony, Auckland Philharmonia and the Symphony Orchestra of India in two contrasting projects before travelling to the States to make his debut with the Seattle Symphony.