Vinay Parameswaran joins JBM for general management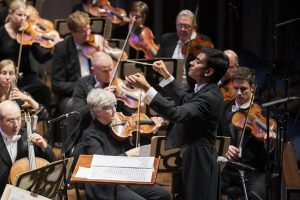 Photo: Roger Mastroianni
We are delighted to announce that American conductor Vinay Parameswaran has joined the JBM roster.
Parameswaran has just completed five years with The Cleveland Orchestra, first as Assistant Conductor, followed by a promotion to Associate Conductor, benefitting from generous podium time with one of the world's finest orchestras. Previously he was Associate Conductor with The Nashville Symphony and a Conducting Fellow at the Tanglewood Music Center. He was educated at Brown University and the Curtis Institute of Music.
As a guest conductor he has appeared with the Pittsburgh, Milwaukee, North Carolina, National (DC), and Detroit symphonies amongst others.
"Conducting from memory, Parameswaran led a performance that was remarkable both for its polish and power. There was plenty of nuance in this account, which seemingly probed every emotion — from giddiness and pensiveness to wildness and sarcasm. The performance earned a resounding ovation for the orchestra, and no doubt assured Parameswaran his place on future classical series programs."
The Nashville Scene