Alpesh makes his RFH debut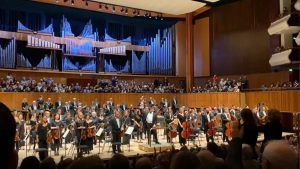 Congratulations to British conductor Alpesh Chauhan for jumping in for an indisposed Klaus Makela to make his Royal Festival Hall debut on Saturday night with the London Philharmonic Orchestra.
Given the current atrocities in Ukraine, the evening was made all the more poignant by opening the concert with a rousing performance of the Ukranian National Anthem, which has since had over half a million views across the world. The main programme included Prokofiev Violin Concerto No. 2 (Daniel Lozakovich) and Rachmaninoff's Second Symphony. You can read a recent review here.
Alpesh conducted a thrilling and spirited Rachmaninoff Symphony No. 2 which received a wonderful reception and standing ovation. A spectacular debut: bravo Alpesh!
This week, Alpesh returns to work with the Philharmonia Orchestra in Basingstoke, featuring soloist Jess Gillam.