New Release: Pohádka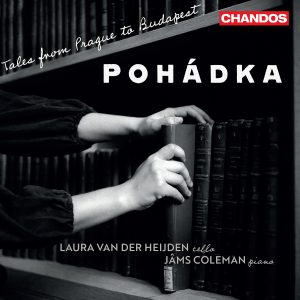 Laura van der Heijden has released her debut album on Chandos Records, exploring the rich musical heritage of Bohemia, with pianist Jâms Coleman.
Laura writes: "Jâms and I first met in 2017, when I was mesmerised by the sensitivity of his musicianship and the colours he managed to create on the piano. Our first concert together took place in the summer of 2018 and included Janácek's Pohádka. Both of us felt incredibly drawn to this piece and also to Janácek's musical language. One of the reasons we were particularly enamoured of Pohádka (a Czech word which loosely translates as 'A Tale') was the focus of the piece on storytelling and how that invited us to let our creativity and imagination flow. This is the common thread spun throughout the repertoire that we have selected for this album; all the pieces embody the notion of passing on ancient folk tales, tales which have lived amongst peoples and across lands for centuries."
Buy your copy HERE.