New release: Francesca Dego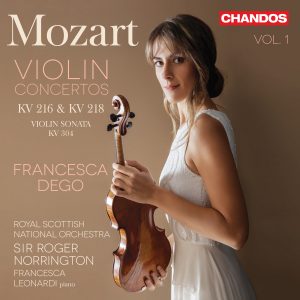 Francesca Dego's new release on CHANDOS of the first volume of Mozart Violin Concerti has been widely praised for its fresh approach and first-class musicianship.
Recorded with Sir Roger Norrington and the RSNO, Francesca's latest disc recently received a glowing four star review in The Times:
"For singing beauties of an instrumental kind, look no further… Everything here is fleet, bouncy, clean, joyful and fresh, an approach entirely fitting for concertos designed for pleasure rather than deep thoughts."
With Classical Explorer describing it as 'A release for all lovers of Mozart: life-enhancing, bracing, beautiful'.
The album is also currently disc of the month in BBC Music Magazine with a glowing 5 star review.
Brava Francesca – we can't wait for Volume 2!