Hyeyoon Park opens the Young Euro Klassik Concert series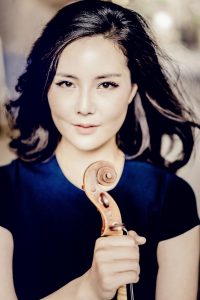 Photo: Andrej Grilc
Celebrated violinist Hyeyoon Park performs Mendelssohn's Violin Concerto on Friday this week at the opening concert of the Young Euro Klassik Concert series at Konzerthaus, Berlin conducted by Marzena Diakun.
Hyeyoon is renowed for her outstanding style and virtuosity and this performance will be later broadcast on Deutshlandfunk Kulture on 3 August at 20:00.
Fresh from a chamber music project in Koblenz, she travels to Greece next month to perform as soloist in the Molyvos International Music Festival, before returning to the UK to perform at her own festival – Bromley and Beckenham International Music Festival – of which she is co-Artistic Director with pianist and regular collaborator, Benjamin Grosvenor.
Good luck Hyeyoon!