Alpesh Chauhan conducts the opening night of 'RhineGold'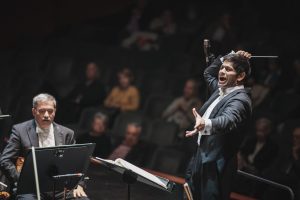 Photo: Michele Monasta
This weekend, Alpesh Chauhan conducts the opening night of 'RhineGold' with Birmingham Opera Company and City of Birmingham Symphony Orchestra at Symphony Hall. This will be the Birmingham-born conductor's first production as their newly-appointed Music Director.
For more information, click here.
After the tragic news of Sir Graham Vick's passing earlier this month, the whole company have been working diligently to honour the memory of Graham with this sensational production.
Alpesh commented: 'Graham was a revolutionary. An opera director who approached his art by starting with the score and connecting with the people around him. Since first working with him in 2019 on Lady Macbeth of Mtsensk to becoming Music Director this season, I always found him to be an inspiring, encouraging and generous mentor and collaborator, bringing his passion for opera to every rehearsal and performance. He will be greatly missed by the music world, by Birmingham and by me personally'
We send our best wishes to the whole cast for wonderful performances at this extremely sad time.