The Tallis Scholars perform the 2020 NCEM Young Composers winning entries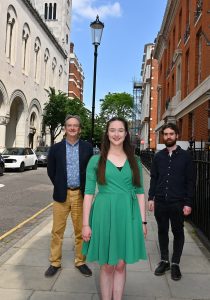 Photo: Mark Allan
The Tallis Scholars recently performed the winning entries from the 2020 NCEM Young Composers Award at Cadogan Hall.
Eilidh Owen won the 18 years and under category for her beautifully moving 'As if there were no such cold thing', and Fintan O'Hare, winner of the 19-25 category, brought us the exceptional 'Come Passing Rain'. Both pieces were inspired by 'The Flower' by George Herbert. The talented young composers joined the group on stage to conduct their thrilling new works.
The broadcast includes an interview with Peter Phillips, alongside performances of beautiful music by Josquin which feature on their recent recording.
The session was recorded by BBC Radio 3 for broadcast on The Early Music Show, presented by Hannah French. Please do have a listen!