Francesca Dego releases "Il Cannone" on Chandos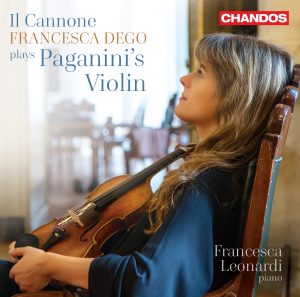 Francesca Dego pays homage to Niccolò Paganini with a new recording of works inspired by the great violinist and composer, out on Chandos Records on 26 February. Recorded on Paganini's violin, the legendary 'il Cannone' crafted by Guarneri del Gesù in 1743, the CD features the virtuoso's own Campanella in an arrangement by Fritz Kreisler, Kreisler's Recitative & Scherzo Caprice, Rossini's Un mot à Paganini, Szymanowski's Trois Caprices de Paganini, Schnittke's A Paganini, Corigliano's Red Violin Caprices as well as world premiere recordings of Carlo Boccadoro's Come d'autunno, dedicated to Francesca, and Boccadoro's arrangement of Paganini's Cantabile. She is accompanied by her long-term piano partner Francesca Leonardi in the works for violin and piano.
The recording marks the beginning of Francesca's exclusive relationship with Chandos Records. Il Cannone has been heard on record just a handful of times. Dego was given the honour of recording with it after the success of her first performance on the instrument in October 2019, when she was invited to play Paganini's First Violin Concerto at Teatro Carlo Felice's Paganini Celebratory Concert in Genoa, Italy.
To find out more about the recording, please watch HERE or visit HERE.