Nigel Brown O.B.E.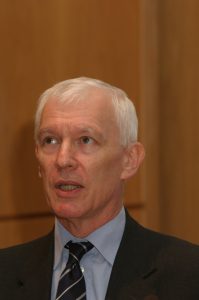 We are very sorry to learn of the recent passing of Nigel Brown, co-founder of Hazard Chase Limited. Nigel was the Chairman of N. W. Brown and Company, a diversified financial services business, with whom James Brown partnered in 1990 in the creation of the agency.
Nigel was passionate about classical music and supported musicians in various ways, notably the provision of top quality stringed instruments to artists, an activity which eventually led to the establishment of The Stradivari Trust. He was also Chairman of the Trustees of Saffron Hall, was closely involved in setting up The Britten Sinfonia, awarded an annual prize for an outstanding student performer at The University of Cambridge, sponsored concerts and recordings, helped to establish two classical agencies and one in rock and pop and advised and assisted many musicians with their financial affairs.
James Brown comments "I owe Nigel a great deal for helping me to start my business career, tolerating my mistakes and encouraging me to be ambitious. Looking back, starting an agency with no experience whatsoever, and outside London, was pretty questionable, but for some reason we both thought we could do it. His connections in the business brought us some of the early clients, including Alexander Baillie (the first client), the Endellion String Quartet and Julian Bream. We had a lot of fun in those early years. Nigel's vision, creativity and positivity were his great strengths – he was someone who came up with ideas and made many of them happen. Our common (in both senses) surname caused confusion of course, and we frequently had to explain that we were not related – I still encounter that today. I think his most important legacy in music is the significant number of artists who are playing on excellent instruments due to him. In that respect, he played a very important role in the industry – a role for which he was uniquely qualified."
Rest in Peace.