Jonathan Berman steps in to conduct the LPO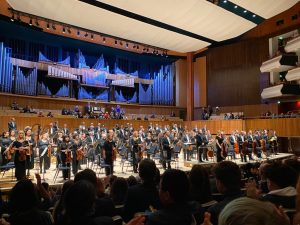 Bravo to Jonathan Berman for stepping in at the eleventh hour to conduct a thrilling programme at the Royal Festival Hall with the LPO last night. The evening included the World Premiere of Nimmy Lopez's new Piano Concerto written for Javier Perianes and R.Strauss' Also sprach Zarathustra.
"Berman's greatest achievement was to have looked at [the] … new Piano Concerto for the first time that morning and to keep the orchestra phantasmagorically in synch with the soloist." – The Arts Desk
No stranger to contemporary scores, Jonathan rose splendidly to the challenge of learning the Lopez Piano Concerto with just a few hours' notice. The soloist Javier Perianes clearly showed his appreciation for Jonathan's expertise at the end of the performance by applauding him from his piano stool before rising to take his bows with the orchestra.