Llewellyn returns to the podium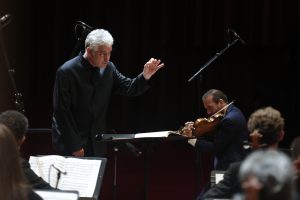 Photo: Laurent Guizard / Orchestre National de Bretagne
We're delighted that Grant Llewellyn recently returned to the concert platform with his orchestra L'Orchestre National de Bretagne on 21st May.  The performance, which included Beethoven Symphony no.5 together with concerto works by Rossini and Saint-Saëns with soloists Pierre Génisson and Hugues Borsarello, can be seen in its entirety here.
Aptly entitled Hope, this was a particularly significant concert for Grant since it was his first performance after suffering a stroke last summer and marks a decisive step in the process of his recovery.  BBC Wales has just reported on Grant's inspirational story and the difficulties he has overcome: read it here
Characteristically, Grant has faced this unexpected challenge with good humour, courage and determination, and his successful return to the podium has not surprised any of us who work closely with him.