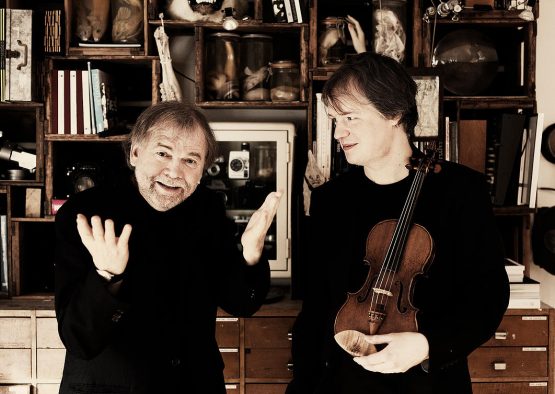 The World of Equinox
"…a window on a magical world ..."
David Nice, BBC Music Magazine, November 2015
About the Project
The music
Composed by Henning Kraggerud in 2014, Equinox is a kaleidoscopic tour across the world and time. Comprising 24 short Postludes, it is the musical counterpart to a 24-part story by world-famous Norwegian author, Jostein Gaarder (author of Sophie's World). The work, which is a full concert length, can be performed with or without narrator.
The 24 Postludes, arranged into four concertos – Afternoon, Evening, Night and Morning – are written in 24 keys and depict 24 hours and 24 time zones, taking the listener on a musical journey through the circle of fifths, beginning in C major. The postludes are by turn joyful, mournful, effervescent and heart-wrenching.
Since the 17th century, theorists, philosophers and composers have discussed the intrinsic properties of musical keys, and their links to time and space. These discussions and ideas inspired Henning Kraggerud and Jostein Gaarder to collaborate on Equinox.
–
The story
Jostein Gaarder's original story accompanying Equinox is entitled 24 keys to a world before it slips away. In it, a man travels through time from the Meridian Line in Greenwich, London (C major). As he awaits a potentially serious medical diagnosis, the protagonist decides to make the most of his 24 hours of freedom by visiting every time zone. Each postlude of music depicts one of these locations around the world.
The original text is in Norwegian, with an English translation now available.
–
Instrumentation
Equinox exists in two versions:
Violin & Chamber Orchestra

The original version of Equinox, premiered in 2014 at the opening concert of the Northern Lights Festival in Tromsø, and later performed with Jostein Gaarder narrating the story at the Nordland Music Festival in Bodø and the Risør Festival of Chamber Music, Norway.

Henning has performed and recorded this version with the Arctic Philharmonic Chamber Orchestra. It is now available for performance with other chamber orchestras.

The recording was released internationally on the Simax label in 2015, and audio excerpts are available here.

Violin & Piano

Composed in 2017 to facilitate easier learning, teaching and performances in some of the remote locations in which the story is set.

The world premiere of this version took place in Norway in June 2018, with Jostein Gaarder narrating the story.

Henning is joined in this version by pianist Clare Hammond.

Audio-visual excerpts of the music are available here.

 Narration:

Renowned actor Simon Callow has recorded the English version of Jostein Gaarder's story on a new disc of Equinox, to be released on the Simax label.

In live performances, narration is optional, either with Simon Callow (subject to availability) or a local actor
–
Reviews
"Kraggerud has composed the music and it is beautiful, varied, full of unexpected turns and touching. He has created room for the individual musicians to shine. It is precise as well as generous and spacious – and a fantastically good listen…." – Anki Gerhardsen, Avisa Nordland, August 2014
"Equinox is a fascinating composition to return to over and over again" – Göran Forsling, MusicWeb International, August 2015
"Kraggerud sticks to a lush, late-Romantic idiom and delivers a beautifully clean, superbly articulated performance of his self-composed solo line throughout, full of character and wit." – David Kettle, The Strad, November 2015