Zlata Chochieva signs with Naïve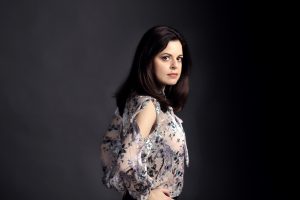 We are delighted that Zlata Chochieva is joining Naïve exclusively and will be releasing the first album of their collaboration, Chiaroscuro, this summer, featuring Mozart and Scriabin, to coincide with Scriabin's 150th birthday.
Here is the press release from Naïve:
Naïve, a label of Believe, is happy and thrilled to announce a new collaboration with pianist Zlata Chochieva.
The Chiaroscuro album project (Mozart, Scriabin) will be released on May 20th and two more projects will follow in the years to come.
Trained in Moscow with Mikhail Pletnev and Pavel Nersessian, and in Salzburg with Jacques Rouvier, Zlata Chochieva has established herself as a distinctive voice amongst pianists, appearing at prestigious concert halls and festivals and with major orchestras and conductors across Europe and beyond, and giving recitals at venues including the Konzerthaus Berlin, the Wigmore Hall in London, the Philharmonie de Paris, the Teatro La Fenice and the Konzerthaus, Vienna. Her previous recordings won several awards such as Preis der deutschen Schallplattenkritik (Germany) and Gramophone Editor's Choice (United Kingdom).
About this new collaboration with naïve, Zlata Chochieva said:
"I am extremely happy to become part of the family at naïve and look forward to our upcoming recording projects exploring some wonderful music. I am delighted to announce that our first album together will celebrate the 150th birth-anniversary of the great Russian composer Alexander Scriabin, whose world will be highlighted by the music of Wolfgang Amadeus Mozart. Scriabin and Mozart have walked by my side along my musical path since I was a child, and recording this repertoire has been an act of pure happiness for me, so I can't wait to share it with a wide audience."
Pierre-Antoine Devic, head of Classical & Jazz at Believe, said:
"We are so happy to start this journey with Zlata Chochieva, who has a singular approach towards music and arts. This new partnership reinforces our artistic strategy and we can't wait to unveil the fantastic Chiaroscuro project. Welcome to naïve, Zlata!"
Special thanks to James Brown Management for their collaboration in this signature!
📸 Uwe Arens